Automatic Water ATM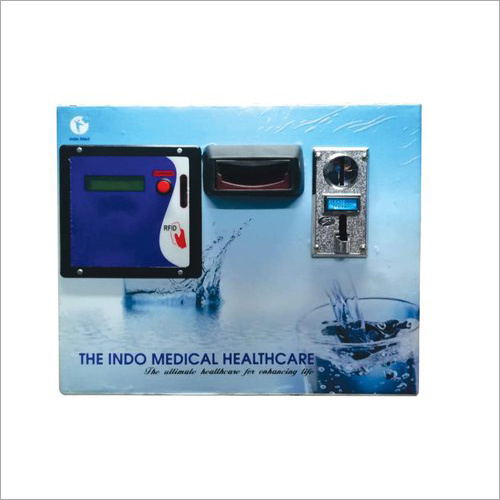 Automatic Water ATM
Price And Quantity
Product Specifications
Automatic

LCD Touchscreen
230 Watt (w)

12 Kilograms (kg)
Product Description
We offer multi coin operated water atm machine, automatic water atm, automatic water vending machine, mobile gsm smart card water atm machine, solar water atm and multi coin and smart card operated water atm machine.
Features:
1) Human Interface - Coin, Smart Card and Indian Note
2) Coin Acceptance - Rs. 5 and 10 Old and new
3) Note Acceptance - Rs. 10 Old and new,20
4) Coin Capacity - 200 to 500
5) Card Recharge - In build Within System itself and protected with Master Card
6) Display - 16x2 LCD display Display is showing Amount, Volume liter
7) Dimension - 16x10x13 inch LBH
8) Rate i.e. Rs per Litre -Can be changed anytime from the System itself
9) Water Flow Sensor 3/4and Solenoid Valve - Yes,
10) Cards with the System - 50
11) Scope of connecting Motor - Yes
12) Power - 230V AC, 50 Hz
FAQs:
Q: What is an Automatic Water ATM?
A: An Automatic Water ATM is a self-service water vending machine that provides clean and purified drinking water to the public. It operates similarly to an automated teller machine (ATM) but dispenses water instead of cash. It offers a convenient and accessible solution for individuals to access safe drinking water in public spaces.
Q: How does an Automatic Water ATM work?
A: An Automatic Water ATM is typically connected to a water purification system, such as a reverse osmosis (RO) or ultraviolet (UV) water treatment unit. The water undergoes a purification process to remove impurities and contaminants before being stored in tanks within the ATM. Users can approach the machine, select the desired quantity of water, and make payment through various payment methods, such as coins, smart cards, or mobile payments. The machine then dispenses the purified water into containers brought by the users.
Q: What are the benefits of an Automatic Water ATM?
A: Automatic Water ATMs offer several benefits:
Access to clean drinking water.
Cost-effective.
24/7 availability.
Reduction in plastic waste.
Q: Can Automatic Water ATMs dispense different types of water?
A: Yes, Automatic Water ATMs can be designed to dispense different types of water based on specific needs. This can include purified drinking water, chilled water, or even flavored water variants, depending on the configuration and customization options of the particular machine.
Q: Are Automatic Water ATMs environmentally friendly?
A: Yes, Automatic Water ATMs can contribute to environmental sustainability by reducing plastic waste generated from single-use water bottles. By encouraging the use of reusable containers, they help minimize the consumption of disposable plastic bottles, which can have a positive impact on the environment.
Trade Information
8 Days

Contact us for information regarding our sample policy